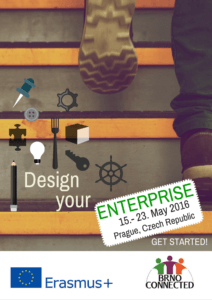 Do you wonder what to do with your life? Are you finishing school, changing job or searching for one? Have you considered social enterprise – or may be you already have an idea for a start-up?  This training offers tools and direction to go for it!
GET STARTED is an intense training focused on your skills, knowledge and attitudes. You will get space to create a plan for social enterprise in a context of our living place and organization we are working in.
It will help you with financial sustainability of the enterprise, involvement of volunteers and new co-workers, networking, planning further, new suppliers, administration, evaluation and entrepreneurial skills with personal development or new financial strategies.
Prague, Czech Republic. May 2016. 8 days of intense youth exchange, 30 participants. 8 countries. Continue reading →