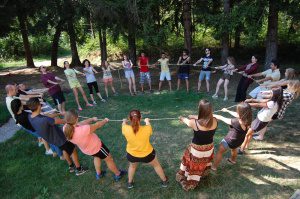 Brno Connected send a four volunteers on Croatia EVS project. Katka will tell you how did they like it. 
How to do something meaningful in summer and also enjoy it at the same time? One of the opportunities of a wide range of activities available is the EVS programmes (European Voluntary Service).
Four people from the Czech Republic got with the help of Brno Connected on such kind of a programme called Rhythms Of Nature in Veliki Žitnik in Croatia. The project's agenda was loaded with wonderful activities – voluntary service, which was actually more fun than work, self-development games and workshops, international evenings, trips and also 4 days off to spend as anybody pleased.
About 30 people from all around the Europe – Bulgaria, Croatia, Germany, Greece, Italy, Macedonia and of course the Czech Republic got together, had some work done and made a lot of friends among the others.
The volunteering part included a big variety of activities. On the first week, we spend most of our time building a pathway made of wooden chunks. The woodwork consisted of cutting with chainsaws, axes and drawshaves, latter alternating the wood with angle grinders and painting the wood with motoroil. Nothing for couchpotatoes, though not an exhausting duty at the same time. Those, who were not previously experienced with such kind of tools, did not have to fear because prior to start of working, we had a very enlightening workshop with an amiable instructor, who ignited enthusiasm and curiosity in us for the future work.
Another quest we were supposed to do was to build a compost. This activity demanded only about a day and a smaller group of participants, the rest of them spend the time creating handbooks to present the work we did and its venue – a village Veliki Žitnik.
Furthermore, we all developed some cooking skills. In order to maintain a working plan, we were divided in groups to complete daily duties such as providing food, taking care of tools or cleaning the camp. And trust me, cooking for 30 people is not a thing you are lucky to do every day.
We also spent a certain amount of time helping out local farmers on a raspberry field and collecting hay. In order to save environment, we picked trash along a river in the neighborhood.
And since the project is called Rhythms Of Nature, we spent a day and a half making music, drumming and developing our own rhythms which all escalated at the evening with jam session where we all played the drums together.
At the end of the EVS, we had one more thing to do – to invite the locals and present them, what we managed to do in the fortnight and where the huge pile of wood actually disappeared.
To reward ourselves at the end of the days filled with work, there were international evenings organised, where participants of each country presented their people, culture and cousine – funny videos, typical food and folklore dances included.
To sum up, after all these pros listed, there is one disadvantage – i. e. the European Union offers the possibility to take part in a short-term EVS is only once in a life. And since it was an excellently spent time with splendid people, I am sure we would all love to do it again!
Vanda
The project was realized and funded through Erasmus+ programme.