Katka describes her experiences and mipressions from Global ImpACT project, which took place 3.-12.5.2015 in Rijeka, Croatia.
It will take me long time to forget my first two weeks of May 2015. Not only I finally visited Croatia for the first time at the age of 25 and so gained the status of "a true Czech", but most importantly I spent these days on a project named Global ImpACT. The youth project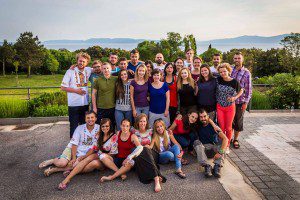 organized by Croatian organisation Synergy Croatia – SYNCRO was held in an inspirational eco-friendly hostel Dharma, in a suburb of a city of Rijeka. Reconstructed industrial area with an amazing view on a bay hosted twenty participants from Bulgaria, Croatia, Czech Republic, Latvia, Romania and Spain. Under the guidance of trainers from different parts of Europe, participants pushed their own limits in all possible ways. And I had a chance to be one of them.
Global ImpACT was a project focused on creativity and sustainability. For me, a person from the field of sustainable development, this was a bit confusing because I expected something about environmental sustainability…. And what came instead was – probably even more important – a sustainability in sense of our personal sustainability concerning of both psychical and physical part.
During 10 days we went through a 5-day-long basic synergy training, which gave us a necessary background for next 5 days of outdoor activities. Initial training fully focused on our personal development. Most of us (participants) experienced many "aha moments" (I have to admit that although I have been back from the training for some weeks, time to time I still realize what was actually meant by this or that activity). We learnt a lot about ourselves, as well as about others, about communication, cooperation, or creative thinking. In some activities we got back to our childhood and enjoyed games as much as at these good old times when we were kids playing around.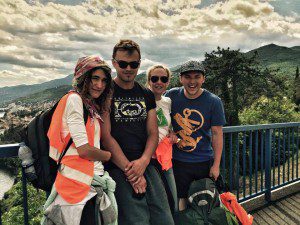 Second part of the project was going on outside. I mean partly in the neighbourhood of the hostel, however during two and half days of so called outdoor training we discovered also a big part of, for us unknown, peninsula Istria. We were divided into groups and set out for an adventure which was more or less in our charge. Travelling in a group usually brings many difficulties. And less you know the people you travel with and more different you are, the more difficulties you can experience. You can, but do not have to. I had an amazing group and we really enjoyed that adventurous time. Of course, we were facing little troubles and fatigue, but all together we took the best possible out of this experience… or at least, I did.
The project was organized under Erasmus +, and therefore the expenses were fully covered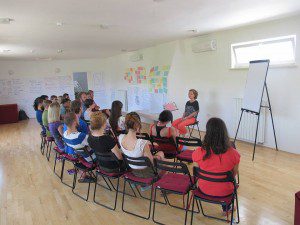 for participants. We got our travel tickets there and back to our countries reimbursed. Moreover, we could start our travel 3 days before the project and return 3 days after the end, which was a great bonus for keen travellers as I am. Thanks to that I managed to visit my friends in Zagreb before the project, to enjoy the atmosphere of the city, to acclimatize to sunny Croatian weather (a pleasant change in comparison to rainy Czech spring). After the project, I made a 2-day visit of Slovenian capital of Ljubljana while visiting my friend and also a quick stop in Maribor.
To sum the experiences from these two weeks up, it was unique and eye-opening experience. I met great people and made new friends. I experienced lots of fun as well as fatigue. An non-comfort zone? I think I don't have any anymore. Simply, some things will never be the same again.
P.S. I would like to thank Katka from Brno Connected who told me about the project, filled me with enthusiasm to apply and helped me to attend it. You were right, Káti!
Katka Procházková
The project was realized and funded through Erasmus+ programme.