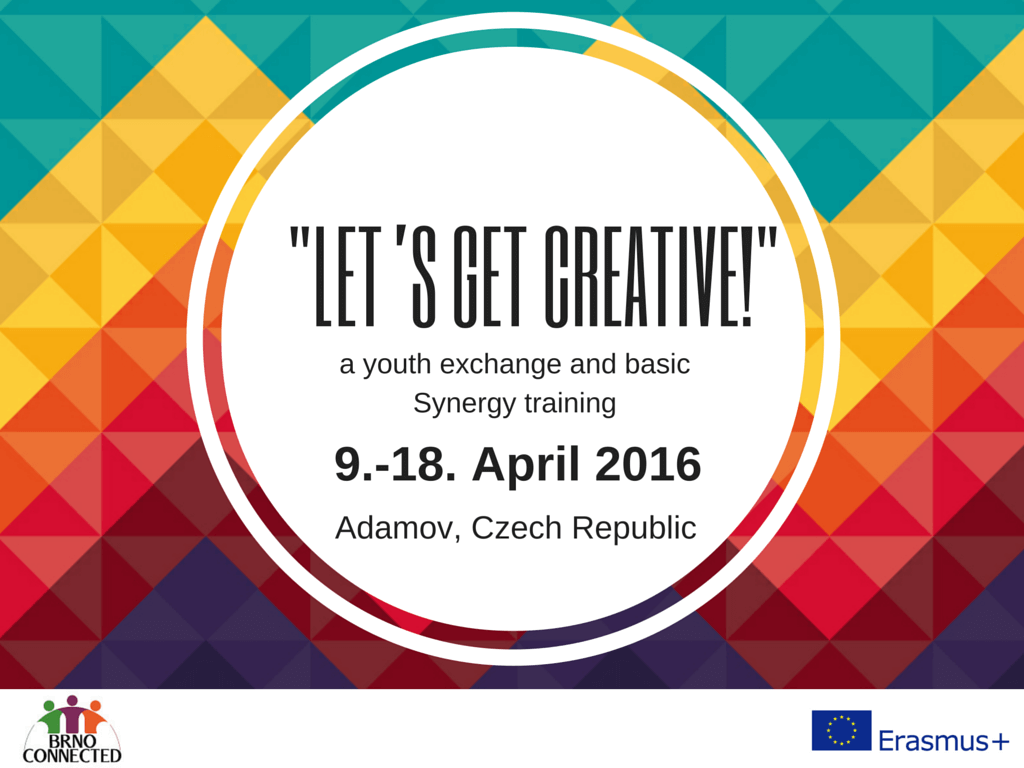 How to bring creativity and playfulness into my everyday life? How to be responsible and use my potential to the fullest? How to become a creator of my life path and a career I have been dreaming about?
"Letʾs Get Creative!" is an international youth exchange for those who want to take a step forward in their lives.
30 people. 6 nationalities. 10 days of an intense personal development programme. Synergy method. Experienced international team.
Are you in?
"Letʾs Get Creative!"  is a 10 day youth exchange that will take place in the Czech Republic, in the ecocentre Svycarna close to Adamov, from 9th till 18th April 2016.
In an international group, we will explore our creativity, proactivity and playfulness. Through experiencing various activities we will look into how to bring playfulness into our everyday lives, how to push our limits, be responsible and create a life we want. It will also be about self-expression and cooperation with others and at the same time you can be looking forward outdoor activities, workshops and discussions.
The main topic we are addressing through the project is the youth unemployement  and it is therefore designed  mainly for those who are unemployed, looking for job, planning to change jobs or finishing their studies and deciding about their next steps.
We believe that one the most powerful ways to support young people in finding and getting a job is to stimulate their awareness of their own responsibility in their own approach to creating their future career path and achieving results they want. Concepts used in "Letʾs Get Creative!" are supporting employment by empowering participants in creating strong attitudes towards career.
The approach we are using in the project is basic Synergy training, a personal development method shared among organisations around Europe that belong to International Synergy Group.
The training is for you if:
you are 18 – 30 year (plus one group leader per group that can be older than 30 yrs)
you are a registered inhabitant of the Czech Republic, Bulgaria, Romania, Latvia, Croatia or Italy.
you want to improve your personal and professional competence, refresh your approaches and exchange practices
you are willing to live, learn, play, inquire, reflect, experiment and explore in a multicultural group
You will have an opportunity to improve your:
leadership skills
creativity and proactivity
communication skills
cooperation skills
organisation skills
flexibility
Partner countries in the project: Czech Republic, Bulgaria, Romania, Latvia, Italy, Croatia
Participants´age : 18 – 30 yrs
Dates of the project: 9.-18.4.2016
Deadline for application: 6.3. 2016
Venue: Adamov, Czech Republic
The projects is funded through Erasmus+ programme which means that food, accomodation, programme, materials and travel costs according to the given distance bands are fully covered.
More info: Lets get Creative_infoletter
Application form: Lets get Creative_Application form
If you have any questions, feel free to contact us at brnoconnected@gmail.com