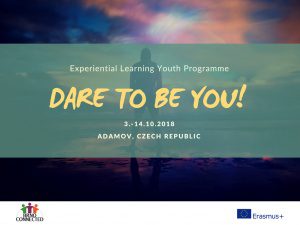 Do you dare to be vulnerable? Do you dare to re-discover who you really are? Do you dare to enjoy your uniqueness together with  others? Do you dare to be you?
Come and explore yourself, your own identity, your patterns of behaviour and get rid of those that are not serving, creating space for your own freedom, to be who you want to be. 
Does it resonate with you? This ten-day international project might be open right for you.

You may be looking forward a colorful varienty of experiential activites, light and deep, demanding and joyful. We are working based on "learning by doing" approach and combine elements of theatre, dance and body movement activites, circle sharing, non-violent communication, coaching and much more. Together with a group of young people from seven countries, you will become part of a communicity that co-creates the content of our days together and supports each other in growth.
You will have an opportunity to develop your creativity and imagination, leadership, communication and cooperation skills, planning and organising skills.
Our aim is to create space for each of the participants to take up courage to dare to be themselves and to bring their authentic self into their everyday life.
This programme is for you if:
– you resonate with the previous statements
– you are officially resident of the Czech Republic, Slovakia, Croatia, Greece, Romania, Bulgaria or Italy
– you are 18 – 30 years old (there is one place for a group leader who can be older than 30)
– you are challenged by having educational difficulties, unemployment or economical unstability, feel isolated coming from a remote area or being a minority of ethnicity, migration, sexuality, or any other, or you are challenged by other people around you (judgements and actions from the side of family, peers, bullies, partner, etc.) – you will have a priority in this programme
– you are able to work in English
– you are highly motivated and willing to actively participate during an intensive 8- 10 hours daily programme full of experiences, throughout the whole project
– you are willing to live, learn, play, reflect, experiment and explore in a multicultural group
PROJECT DATES: 3. – 14.10.2018
APPLICATION DEADLINE : 5.8. 2018
VENUE: ADAMOV, CZECH REPUBLIC
PARTICIPANTS CONTRIBUTION: 50 EUR
The projects is funded through Erasmus+ programme which means that food, accommodation, programme, materials and travel costs according to the given distance bands (check infoletter) are fully covered.
More info: Dare to Be You_infoletter
Application form : click here

   Funded by the Erasmus+ programme of the European Union.