Markéta and Gabka went on dance training course E+Motion to Portugal. Do you want to know how they enjoyed? 
We arrived! It was such a lovely change from the cold Czech Republic to hot Portuguese city Porto. It feels like we nearly came to spend our holiday here – small cafés in narrow streets of Porto, the ocean really close to the city center, local people who are always smiling, blue and white patterns on old buildings and a lot of sun.
But people coming on holiday usually search for a rest and not doing much. We arrived to do something slightly different – we came because of dance. And because of development of our creativity and entrepreneurship skills. We won't do this alone, around thirty young people from Italy, Spain, Hungary, Bulgaria, Estonia, Lithuania, Poland, Portugal, Greece, and Croatia will join us! The environment is going to be very multicultural, that's for sure!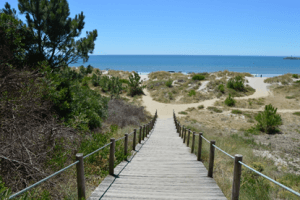 Our accommodation is about 150 m from a beach – the beach is huge, with sand and right next to the Atlantic Ocean! Without any tourists and with many surfers. The place we stay in is a local surf club. We've been told that all guests of this club must join at least one surf lesson! Well, to be honest, we didn't argue! (Even though the combination of quite tiring dance lessons and surf lessons was challenging for us.)
Our Erasmus+ plus project was all about contemporary dance. The thing is that when you say this to all 30 participants of the project, their style of dancing and attitude to the topic will be always so different. Thanks to that we all could learn from each other and that was, in my opinion, one of the highlights of this project.
The lessons lead by Marjory, our Dutch dance teacher, were tiring but in the same time it gave us so much positive energy! Marjory knew so well how to transform our movements into a dance. She mentioned, that music and dance are her life. It is obvious from her attitude. And it is so amazing to experience something like that. With Alex, our Greek dance teacher, they created perfect teacher duo. Both gave us something from their dance style and from their enthusiasm.
The first half of the training course was about a dance technique and boosting our creativity. The truth is that the environment we were in – surf club, amazing beach, small forest – boosted our creativity so easily!
To not be overwhelmed by the dancing and creativity, we decided to spend one morning in the ocean waves – in cold Atlantic Ocean in surf costumes with surf boards. For most of us it was first real surfing experience ever! We liked it so much that we asked for another surfing lesson few days later. It is such a bad luck, that we come from the Czech Republic, where there isn't any sea. We only can dream about it.
The second half of the training course had one main goal – to create final dance performance with our own dance choreographies. We had many guests – friends of the trainers, the club staff, Portuguese friends of some our participants and even few local surfers. I loved the diversity of the dance pieces we created. On the beach, in the tree, in the water, on the grass, on the stairs, on the handrail. Alone, in duos or in trios. With some music or in silence. Did we do a good job? Check out this video.
VIDEO
We learned how to create something special from our usual daily movements. Now we know how to work with a space, dynamics, and time. We got better at team work with other dancers. I even believe that our English vocabulary and the list of our foreign friends became much wider after this training course. Back home, to the Czech Republic, we brought new dance skills, sun-tan, new Portuguese friends and smile on our faces. Will you join us next time?
Markéta + Gabka
    Funded by the Erasmus+ programme of the European Union.