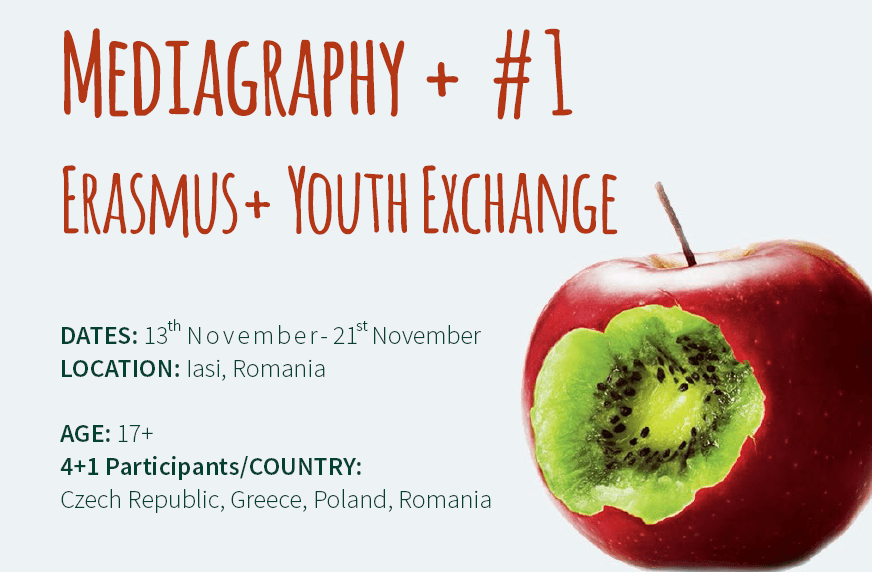 On-going raise and importance of self-branding and and digital skills in the modern society, while the youth unemployment is at rising stakes.
Mediagraphy project efficiently combines the two aspects in learning self-branding exchanges, while developing practical skills that employers or entrepreneurial paths are looking after, through involving youth directly as media creators.
Jump in! First phase of Mediagraphy+: Design & Creativity is a perfect start for your future.
Iasi, Romania. November. 9 days of intense training, 20 participants. 4 countries.
ProJECT IS FOR YOU IF:
– you are young and not employed, willing to develop in order to get hired or that are still under the construction of your personal branding or identity
– you are from Czech Republic, Greece, Poland or Romania
– you are 16-28 years old interested in learning about media, branding and accessing digital tools for learning, in order to get employed
– you want to learn, play, experiment and explore with others within multicultural group
WHAT YOU CAN EXPECT?
– creativity vs. innovation as a tool of learning
– working with media and creativity – virals
– brainstorming techniques – 10 ways
– designing an online campaign in order to get employed
– working with design: Photoshop, Ilustrator
– critical analysis and feedback on design
– communication and leadership skills
– best practices for self-branding and getting hired
– intercultural evenings and discovering Iasi and Romania
Used Learning METHODS
Method is a combined form of "learning by experience" – as a form of learning from experiencing different activities and putting it into practice in the daily life and routine, "learning to play, playing to learn" connected with learning from games, from actions and playful environment and "media practices" a method we developed in having youth as media creators.
Group processes. Teamwork activities. Lectures and facilitated processes. Group simulations and demonstration tutorials. Dynamic workshops. Online work and assignments. Intercultural learning and sharing. Learning by doing – groups, individuals.
DATA OF PROJECT: 13.-21. 11. 2015
DEADLINE FOR APPLICATIONS: 12. 10. 2015
VENUE: IASI, ROMANIA
PARTICIPATION FEE: 30EUR
Accommodation, food and the program itself are paid from the grant gained from EU called Erasmus+ . Travel will be reimbursed till 170EUR.
More: Mediagraphy Infoletter a Application form
In case of any questions we are here for you at brnoconnected@gmail.com.
The purpose of the project is an increase in digital/ICT competences and increase of possibility to get employed within next 12 months. Project was design as a complex package you may need, if you want to dig deeper, you can count as well on follow-up phases:
Mediagraphy #2: Social Media & Branding  16.-23.2.2016, Iasi, Romania
Mediagraphy #3: Photo & Video 8.-15.4.2016, Iasi, Romania