Nature, games, dance, sport, meditation, adventure, challenge, culture, great fun and plenty of new friends! These words briefly yet accurately describe the project Natural which took place during the first two weeks of July in the Land of flats and bikes. Almost 50 people from all over the Europe came to the Netherlands to participate in this unique and exciting Erasmus+ project which aimed to reconnect young people with nature and broaden their environmental awareness. The Czech team consisted of one boy Vojta and four ladies – Gabča, Katka, Kamča and Marťa. Nevertheless, we soon met also participants from other countries – Bulgaria, Latvia, Hungary, Macedonia, Romania, Greece and the Netherlands and understood that even though we all come from different corners of Europe, we have lot of in common and that we are going to make a great team together!
The project itself was divided into two parts – we spent the first five days in a beautiful camp Buitendoor which was about two hours of walking from village Nunspeet (that we found out the first day right after arriving at the train station from which we had to walk with all our stuff to the camp).
Each day the program started with optional early Pilates workouts with Czech Kamila followed by great salsa classes of Latvian dance instructor Kris. After these morning energy boosters, we had delicious breakfast and then we were ready to start all-day block of games, activities, sport, talking with our buddies and discussions within the reflection groups. The program was usually finished with collective meditation which was the best way to calm down before going to bed… I mean a sleeping bag.
First day was dedicated to getting to know each other. During the second day in the camp we experienced self-development activities through which we were connecting with ourselves. The third day we calmed down even more and tried to reconnect with nature that was surrounding us through all our senses. The fourth day was again devoted to building trust and getting closer to other people and the last fifth day in the camp we were separated into groups of four and we spent whole day learning new practical skills and information about the Netherlands, which were than useful in the following week full of travelling.
And then on the next day one team after another we left towards new unknown adventure carrying only few most essential things with us. And during this week we were many times assured that sometimes less means more. Even though we didn't know where we are going and what is going to happen the next day, we still had each other's full support and therefore we were never alone.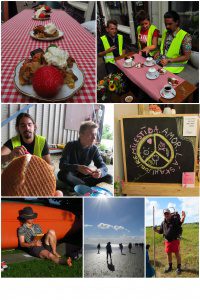 Yes, it is true that as always we went through some hard times, we were sad, exhausted, we wanted to quit, but didn't give up and that was the reason why we experienced many amazing unforgettable moments. We were hiking, riding bikes like locals, paddling on boats, working on a farm, collecting trash, helping others, smiling, hitchhiking, speaking English, mud-walking, watching the sunset, hugging each other and much more…
Obviously, we did survive. And not only that we survived, we have also met lot of amazing people and had a chance to travel through huge part of the Netherlands and learn more about the Dutch culture.
How exactly we did it will remain our secret. But what can we say is that Dutch are unbelievably kind and open-minded people. The whole one-week challenge was full of miracles and surprises. We've got a chance to learn from others but we've also found out lot of about ourselves. It was amazing experience for which we are very grateful and we will remember these two weeks for the rest of our lives.
Original version of the article: Katka and Gabriela
English version of the article: Kamila
The project was realized and funded through Erasmus+ programme.