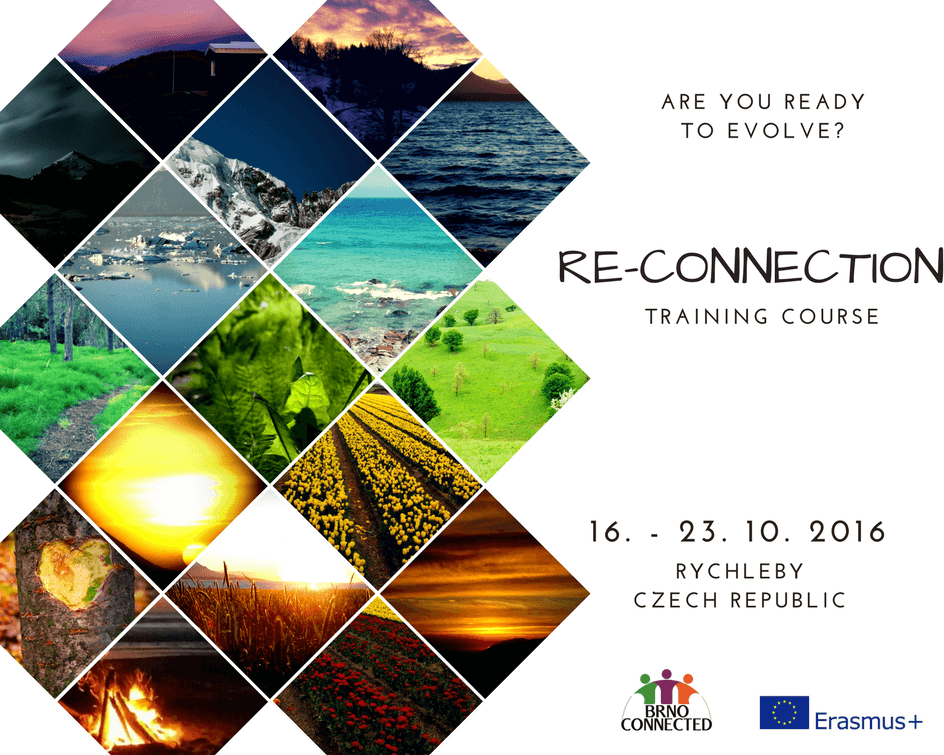 Imagine what quality you could bring to light in your country, in your community, if trust in life, peace and love flow through you rather than fear? Explore deeply nature in you and around you, as way to full self expression, connection to your heart and unique development of the human potential, as a way how to create together the World with tolerance, multicultural spirit, peaceful coexistence and cooperation.
Brno Connected opens the door for the innovative, intensive, 8 days long personal development training course for youth workers, trainers and all those called by deep natural connection with self, coming from Bulgaria, Croatia, Czech Republic, Italy, Macedonia, Latvia, Lithuania and Romania.
16.-23. 10. 2016, Czech Republic, Rychleby
Are you ready to evolve?
How it would feel if you slowed down and got in touch with nature, in you, around you? If your being and choices you make would came from the place of connection with
yourself, from inside – out? If you fueled your soul with real food?
"Re-connection"  is an 8 days training course that will take place in the Czech Republic, in the remote, cozy mountain cottage and tee-pee, in Chalupa Ondrejovka in Rychlebske mountains, near Jesenik, from 16th till 23rd October 2016.
Tap into your intuitive guidance and reconnect powerfully with yourself within the Re-connection journey. Explore the ancient wisdom of 4 seasons, natural elements and directions, honoring the nature, ceremonies, quality me-time, feminine flowing approach in leadership, many ways of self=expression, change-making power of communing, wilderness in you, intimacy, lightness of wandering. Open heart widely and nourish your mind, body and soul through pure melting in to the arms of vast mountains, grasslands, forests, rivers and lakes in Czech Republic.
We aim to bring together You, international youth workers, trainers or simple individuals strongly interested in this topic, with different cultural and personal backgrounds, in order to build up strong multicultural cooperation, inclusive spirit and to explore nature as a key to quality of life, to tolerance and peace, to personal freedom, and as an innovative tool to work with self-development, self-expression, cultural tolerance and inclusion.
Take your seat in a circle.
We believe that change starts  within us. Society needs more well-centered people, with the inner power to make conscious choices, and with high level of awareness, in order to not
live in fear, and open up themselves for creation of new, different era of tolerant, multicultural inclusive co-living. The natural environment supports this process of reconnection
enormously, as on its own it transmits peace, focus on the present moment, and invites us for self-reflection and disconnection from outer influences. Nature is tolerant and respectful of all differences, therefore we chose a natural setting as the most convenient environment to learn from and start social change. Inside out.
Our approach brings together our soul wisdom, our life journey experience, intuition and knowledge in the field. Teachings from Native Americans, sharing circles, connection to 4 directions and seasons, transformation natural ceremonies; combined with methods of non-formal education, personal development Synergy method tools, coaching, outdoor experience, self-expression, spiritual and mindfulness practices, mind-body-soul techniques, will serve us in exploration, how to reconnect with our nature and unique potential.
We will guide you through this journey, we will hold a safe space for your discoveries and learning.
The training is for you if:
you have yearning to be the change in society, through connection with nature in you and around you
if you want to experience and adopt natural based flowing methods into your work and life
if you speak and understand English at basic-intermediate level
Partner countries in the project: Czech Republic, Bulgaria, Croatia, Italy, Latvia, Lithuania, Macedonia, Romania
Participants´age : 18 +
Dates of the project: 16. – 23. 10. 2016 (excluding travelling days)
Deadline for application: 5. 9. 2016
Venue: Rychleby, Czech Republic
The projects is funded through Erasmus+ programme which means that food, accomodation, programme, materials and travel costs according to the given distance bands are fully covered.
Read mindfully: Re-connection info letter
Apply heartfully: Re-connection application form
If you have any questions, feel free to contact us at brnoconnected@gmail.com