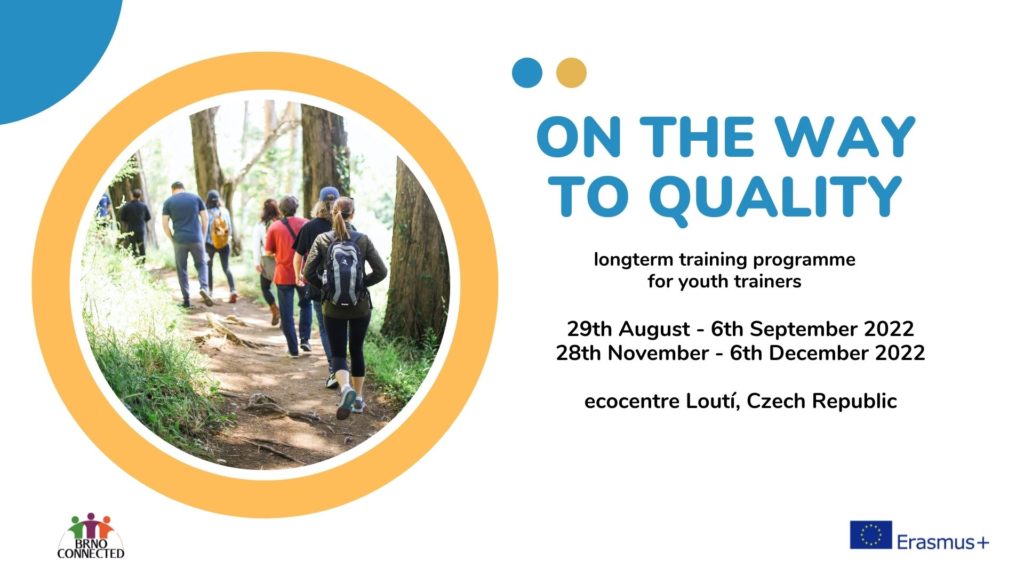 Are you passionate about nonformal education? Do you work with young people and you want to improve at it? Are you looking for new ideas, methods, tools and inspiration? Do you want to get practice and feedback in a safe environment?
Join our training programme and find your own way of bringing more quality into your work!
On the Way to Quality is a training programme that offers long term in-depth training for youth trainers who want to learn how to design and deliver high quality non-formal education and experiential learning programmes for youth.
We believe that non-formal education (NFE) can provide young people with competencies to deal with the complexity and challenges of the current world, such as: ability to communicate, value-oriented education, interpersonal skills, critical thinking, conflict management and so on.
The school systems often do not provide background to cover such problems. Youth work and NFE have the potential to address these topics. Yet, youth workers and youth trainers often start simply by practice with no coherent understanding of the basic principles of working with young people.
We want to fill this gap and support youth workers and facilitators in the field of NFE and experiential learning, with special focus on the international environment.
TOPICS OF THE TRAINING PROGRAMME:
Non-formal education, experiential learning and youth work
Activity design
Working with groups
Soft-skills and personal development
Value-based education, pro-democratic education
Personal practice
Erasmus+ projects and networking
The programme will be highly interactive and participatory, we are using a mix of non-formal education methods and techniques to ensure you get both theory and practice
PROGRAMME TIMELINE:
The programme consists of two residential trainings, online activities and practice workshops in your local environment (both after the first and the second phase). We believe that having a chance to learn something, apply it in your environment and come back to the same group, reflect and continue the learning will give you a chance to integrate and anchor all the competences in much more depth than attending only one training course. For this reason, it is necessary that you participate in both trainings and practice activities and it is not possible to take part only in one phase. We expect you to participate in the whole programme of both trainings (It means coming later or leaving earlier is not allowed)
THE TRAINING IS FOR YOU IF YOU ARE:
officially a resident of the Czech Republic, Italy, Greece, Bulgaria, Poland, Romania, Croatia, Hungary
18+ years old
able to work and communicate in English
active in a youth organisation – i.e. as a youth worker, trainer, facilitator, volunteer, educator,…meaning you have previous basic experience in working with groups and with young people
in need of tools in the framework of NFE and EL to prepare and deliver your own activities
committed to apply what you will have learnt during and after the training programme in your location/team/organization/young people you work with in the next few months
motivated to move your work to a new level, practice and receive feedback
a constant learner and want to learn more about yourself
willing to actively participate during all the phases of this training programme
TRAINERS: Katka Martínková and Michaela Vyležíková, supported by Veronika Batelková
TRAINING DATES: 29.8. – 6.9.2022 + 28.11. – 6.12.2022
APPLICATION DEADLINE: Participants are selected continuously – you will receive an information whether you are accepted within two weeks from your application. Therefore we recommend to not postpone your application to make sure there are still free places available.
VENUE: Ecocentre Loutí, Czech Republic
PARTICIPANTS CONTRIBUTION: 100 EUR for both trainings
The projects is funded through Erasmus+ programme which means that food, accommodation, programme, materials and travel costs according to the given distance bands (check infoletter) are fully covered.
MORE INFO: https://bit.ly/OntheWaytoQuality_infopack
APPLICATION FORM: Click here
If you have any questions, feel free to get in touch with us on brnoconnected@gmail.com.

Funded by the Erasmus+ programme of the European Union.