Hopeland welcomed 35 participants from 7 different countries Czechia, Slovakia, Bulgaria, Italy, Spain, Latvia and Greece for a Youth Exchange/ TRaining course  Tree of Life about Sustainability. Which was held near Agros, Greece between 15th to 24th of October.
The training course took place that is secluded by olive trees and thyme roots which give a breath of fresh air and amazing views to mountains all around. Our days were starting at 7:00 by choosing one of those 3 Hiking, Running or Yoga and then we gather under a magical tree to start the workshops at 9:30 am.
We're in a safe environment, full of laughter, joy, curiosity and a variety of other positive emotions. Where everybody could share any thoughts without being judged.
Our food was Vegetarian the whole program, and people who had Vegan diet were served.
One of the memorable workshops was a model United Nations summit. Dedicated to promoting an understanding of the climate crisis and attempting to solve it.
And the (Systems thinking workshops ) where we're taught that every action has a ripple effect.  This is a particularly important message for Hopeland and the state of the world.
One day we're greeted by a special guest from Greenpeace Greece who came to us especially to teach us about environmental campaigning through interactive learning. We're given a challenging case study: How to prevent corporations prospecting for oil in Epirus.
And after an intense few days of lectures, we split off into teams to get our hands dirty. Each team picks an activity in Hopeland, something to repair or improve. It's a great chance for those of us wanting to get stuck into something physically active.
One of the evenings we watched one of the most anticipated films that is called 'Tomorrow' followed by a post-movie reflection group.
TOMORROW is not just a film, it is the beginning of a movement seeking to encourage local communities around the world to change the way they live for the sake of our planet.
One of the days we had Workshops by led by the  participants themselves, like (pizza making, Vegan cooking, the psychological effect of climate change, clay workshops, Thai massage and much more workshops)
 One of the days we were grateful us to visit Αείφαρον / Aeifaron, Since 2006, Aeifaron Organization has been dedicated to empowering humanity holistically so that all human beings can experience a life of bliss, well-being and prosperity.
Their activities include seminars on self-awareness, natural healing therapies and the creation of a modern sanctuary and eco-community in Nemea, Greece. And then we had the chance to visit Nafplio and share our own ideas with locals and get feedback from them. And had a bit of Swim and chill at the sea there.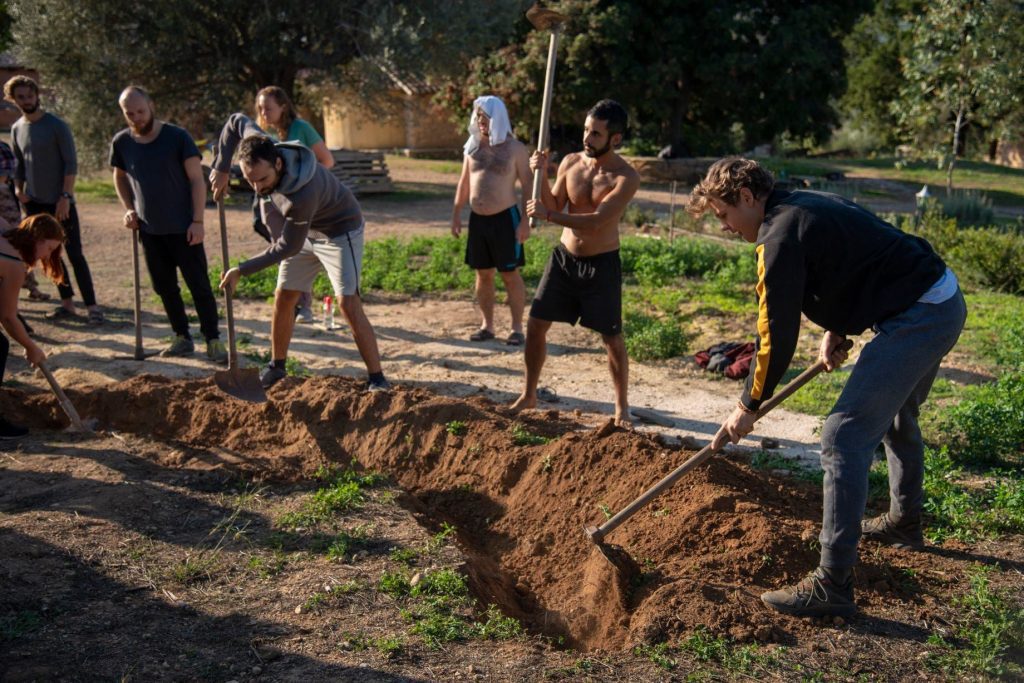 Every day was finished by having a reflection circle, where participants were setting in a circle without lights and one by one could share what they feel and what they felt during the days, which was an amazing way to finish the day.
The last day we planted a tree that is called Tree of Life, and we discussed further ideas that could come into a project and do further partnerships between organizations.
The project "Tree of Life" is created together with Фондация Смокиня / Smokinya Foundation, Brno Connected, Ticket2Europe, Associazione Vagamondo, Piedzīvojuma Gars and Wings for Youth supported by Erasmus+ Youth Greece and Σχέδια Κινητικότητας Erasmus+ – Ίδρυμα Νεολαίας και Δια Βίου Μάθησης and co-funded by the Erasmus+ of the European Union.
The project was realized and funded through the Erasmus+ programme.